What You Should Know Before Hiring a Well Drilling Contractor
If you need to hire a water well driller in Central Indiana, you should keep a few things in mind. First, be sure to ask for referrals from friends or family who have had a good experience with a well driller in the past. Once you have a few names, check out online reviews to see what others have said about their experiences. Online reviews and referrals are very helpful, but there are some questions you should ask the water well drilling contractor directly before you agree to anything. Let's explore five questions you should ask before starting any project for a new or existing private water well in Indiana.
1. Are you licensed and insured?
While it might be tempting to save some money with an unlicensed company, it's actually against the law for anyone to drill or service your water well without a state-issued license. Well drillers and pump installers must pass a written test, have referrals from other licensed individuals, and take continuing education classes after they get their license. This rigorous process ensures that only trained and qualified people drill and service water wells in Indiana.
Also, water well drillers are required by law to keep an accurate record of each well and submit the record to the Indiana Division of Water. Well drillers are required to fill out a one-page record for every well. Well records in the Division of Water are public records used for water resource and environmental evaluations.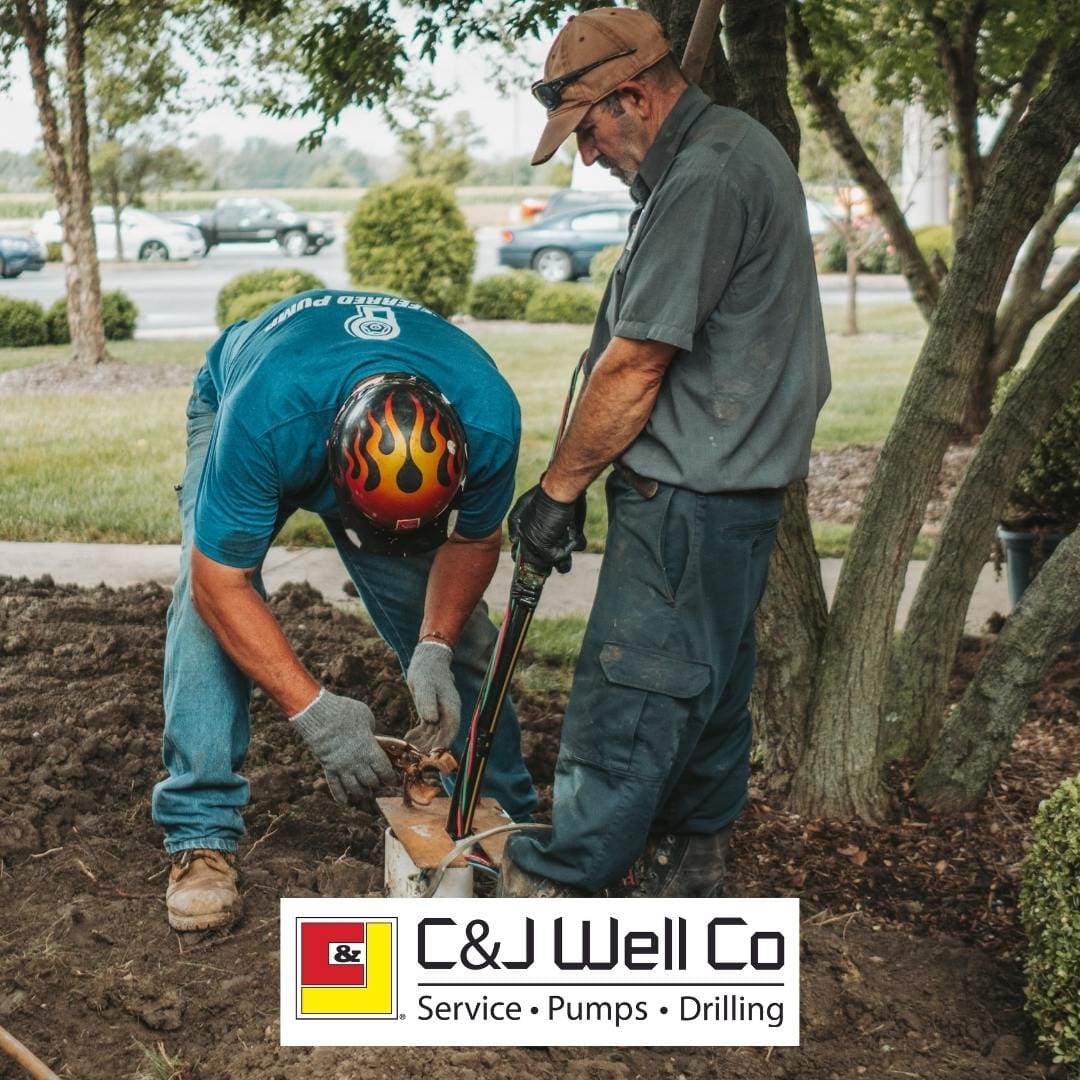 2. What is your reputation?
Ask your perspective well driller if they have any references. Ask your friends and neighbors about the company and the kind of work they've done in the past. Typically, if a well company has been in business for decades, like C&J, they deliver quality work that has helped them attract new customers through the years. As mentioned above, you should check out their online reviews or the Better Business Bureau. Checking a contractor's reputation will give you peace of mind and help you avoid any potential problems down the road.
3. What are my water needs, and will my well produce enough?
Water usage in a house can be broken down into two main categories—indoor and outdoor. Indoor water usage includes cooking, cleaning, showering, and flushing toilets. Outdoor water usage consists of watering lawns and gardens and washing cars. Wells can vary in size, but most have a diameter of six inches or less. The average depth of a well is about 100 feet, but it can be deeper.
The gallons per minute (GPM) output of a water well is important in determining the well's water-carrying capacity. The GPM output of a well can vary depending on the depth of the well, the type of pump used, and other factors. Most water wells have a GPM output of between 2 and 10, and a typical water well can provide between 2 and 10 gallons of water per minute. However, there are some water wells that have a GPM output of 20 or more. These types of wells are known as high-capacity wells. High-capacity water wells are typically used for irrigation or other agricultural needs, and they are also sometimes used for homes or businesses with high water demand. Once your water needs are established, the well driller should talk to you about the potential output of your new well. Using geological information and water yield data from wells in your surrounding area, your well driller should be able to give you an educated estimate as to whether a well on your lot will meet your water needs.
4. What's covered in the contract?
When looking at a contract, there are a few key things to ensure that you are protected and that the contract is fair. First, you want to ensure that all of the essential terms are included in the contract. This includes things like the price, the scope of work, the timeline, and other key details. Second, you want to read the contract carefully to ensure that you understand all of the terms and that there are no surprises. Third, you want to make sure that the contract is fair to both parties and that there are no unreasonable terms. Finally, you want to make sure that you are comfortable with the contract and that you can get out of it if you need to. Getting this information can save you unnecessary time, stress, and money.
5. How much will it cost?
For many people, this is the most important question. There are a lot of factors to consider when making decisions about cost versus value. In many cases, the cost of something is directly related to the value. However, there are instances where the price and value are not connected. It is important to consider both the cost and the value when making decisions.
The cost of something is the amount of money you have to pay to get it. The value of something is its worth or usefulness of it. When you are trying to decide whether something is worth the cost, you have to think about how much it is worth to you. In some cases, the cost is worth it because the value is high. For example, if you need a new car, the cost of the vehicle is worth it because the value of having a car is high. On the other hand, there are also times when the cost is not worth it because the value is low. For example, if you are buying a new pair of shoes and they are very expensive, but you only wear them once in a while, the cost is not worth it because the value is low.
Drilling or servicing a private water well is no different. If the price seems too good to be true, it probably is. Contractors can offer a low initial price but tack on hidden extra costs—the classic "bait and switch." There are a few things that you can do to avoid being scammed by a bait and switch. First, be sure to read any fine print or disclaimers carefully before purchasing. This can help you avoid being misled about the true cost of a product or service. Second, don't be afraid to ask questions. Ask a salesperson or customer service representative for more information if you're not sure about something. Reputable companies give up-front and transparent pricing. 
If you are beginning a new construction project and need a private water well, contact the experts at C&J Well Co. We have been drilling and servicing private water wells for over 25 years, and we are licensed, bonded, and insured in Indiana. Our technicians are licensed well drillers and pump installers in Indiana and keep up with continuing education. C&J has hundreds of online reviews and an A+ rating with the Better Business Bureau. We are confident that you will have a good experience with C&J—give us a call today!