Save $100 on a Well Inspection this Fall!
As summer exits and fall sweeps in, many of us are begrudgingly making preparations for the next season—winter. These preparations might include caulking windows to eliminate costly cold-air
drafts, replacing a furnace filter, changing the batteries in smoke detectors, and unscrewing the hose from the spigot so it doesn't freeze. As you get your house ready, one area you definitely don't want to neglect is your home's water well. C&J Well Co. understands that autumn is the season of preventive maintenance, and that's why we are offering a $100 discount on our 6-point well inspection—from $385 to $285.
"A Penny Saved is a Penny Earned"
This is a quote from the founding father whose face appears on the $100 bill—Benjamin Franklin. He was a scientist, inventor, diplomat, and did you know that Ben has been on the $100 dollar note ever since they were first issued in 1914? If Mr. Franklin was satisfied to save one penny, just imagine how ecstatic he would be with saving 10,000 of them!
"When the well is dry, we know the worth of water."
It was also Benjamin Franklin who famously said "When the well is dry, we know the worth of water." No one wants their well to go dry—especially when temperatures are dropping. There are several elements to your well system and during C&J's 6-point inspection our well technicians make sure each is functioning properly. Take a minute and check out what steps we take to keep your system up and running: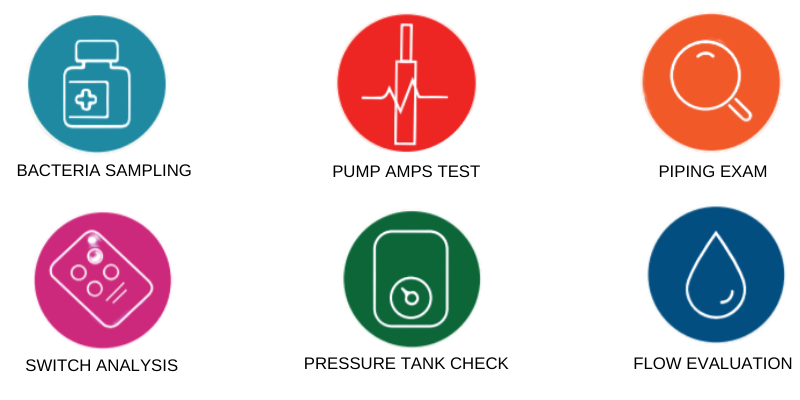 Pump Amps Check—Your submersible well pump is the "heart" of your well system. We read the amps to make sure your pump is in good working condition.
Pressure Switch Analysis—Our pressure switch works with the pressure tank to regulate pressure and operate the pump. We inspect the switch contacts and wiring to ensure everything is safe and working properly.
Pressure Tank Assessment—A properly working well pressure tank preserves the life of your well pump and pressure switch. We make sure it will build and hold the correct pressure, ensuring long life for your well pump.
Piping Exam—This is an examination for leaks in your visible water lines. We also inspect the lines for corrosion and rot. We make sure your well system piping is able to hold the necessary pressure to provide water to your home.
Flow Evaluation—During the flow evaluation, we run water to make sure your pump and well can keep up with the demand. This is a great way to determine if there are other, more serious issues in your well system.
Bacteria Testing—Before we leave, our technicians take a water sample from your kitchen sink. This sample is sent to an independent testing laboratory and the results are sent to you. If the results are unsatisfactory, we have many solutions to make your water safe for drinking, cooking, and more.
These six elements of our well inspection are now more affordable than ever with our fall special. With C&J you get the assurance that your well system is ready and you are prepared for winter. As the aforementioned Benjamin Franklin put it, "Never leave till tomorrow what you can do today."
Contact us today to schedule your discounted 6-point inspection!